Deprecated
: preg_replace(): The /e modifier is deprecated, use preg_replace_callback instead in
/www/htdocs/w00ae177/kick08/wp-content/plugins/polls/polls.php
on line
622
Deprecated
: preg_replace(): The /e modifier is deprecated, use preg_replace_callback instead in
/www/htdocs/w00ae177/kick08/wp-content/plugins/polls/polls.php
on line
632
Deprecated
: preg_replace(): The /e modifier is deprecated, use preg_replace_callback instead in
/www/htdocs/w00ae177/kick08/wp-content/plugins/contact-form-7/wp-contact-form-7.php
on line
71
"Wie funktioniert eine Fußballmannschaft?" fragte unlängst Ö1, ob man darauf eine Antwort finden konnte weiß ich leider nicht, da ich die Sendung nicht gehört habe und auch keinen kostenpflichtigen Zugang zum nachträglichen Herunterladen besitze. Der kurze Begleittext liefert jedenfalls keine Antwort, stattdessen findet man darin einen Hinweis auf den Begriff des Mental-Coaches, womit die eigentliche Einleitung zu Österreichs aktuell erfolgreichstem Fußballexport, Paul Scharner, gegeben ist. Ebendieser schoss am Wochenende mit einem spektakulären Flugkopfball seine Latics aus Wigan zum ersten Punkt nach acht Niederlagen in Folge und sich selbst ins Dream Team der Runde sowie großformatig auf das Online-Portal der "Sun" (siehe unten), erntete dafür in der britischen und österreichischen Presse die gewohnten Lorbeeren und stellte auch die Medien auf der Insel vor das Rätsel warum Scharner, "who has performed a U-turn on his decision to quit international football but must now hope Josef Hickersberger puts a long-running feud between the pair to one side so he can feature for his struggling country and Euro 2008″, als ein Topspieler bei einem Premier League Klub keinen Platz im schlechtest platzierten Nationalteam der EM bekommt.
Gleiches Thema, anderer Spieler, anderer Verweigerungsgrund: Roland Linz schoss letzte Woche nicht nur im UEFA-Cup dem deutschen Rekordmeister und Tabellemführer FC Bayern samt Oliver Kahn zwei Tore, wovon leider nur das zweite zählte, sondern mutierte auch am Wochenende zum Matchwinner in der portugiesischen Meisterschaft. Während sich also ein Kienast nach seinen torlosen, ungefährlichen Auftritten im ÖFB-Team auf seine erste norwegische Erstligasaison vorbereitet, ist Linz längst in einer deutlich höher einzustufenden ersten Liga erfolgreich angekommen. Lediglich im Nationalteam bekrittelt Hickersberger die schlechte Trainingsmoral von Linz (während ihn die schlechte Spielmoral so mancher Spieler weiterhin weniger tangiert), außerdem bräuchte Österreich aufgrund des mangelhaften Offensivspiels eher einen Konter- als einen Strafraumstürmer: zwar mag sich diese Erklärung im Gegensatz zur puren Eitelkeit im Fall Scharner immerhin einer fußballerischen Grundlage bedienen, hätte man diesen Maßstab jedoch vor ein, zwei Jahrzehnten angewendet, so wäre uns ein Rekordtorschütze Toni Polster - ebenso wie Linz ein Standfußballer mit Torjägerqualitäten - vorenthalten geblieben.
Statt eines Premier League Topspielers und Portugal Legionärs mit Torriecher setzt Hickersberger weiterhin auf die Herren Aufhauser und Kienast, zumindest ließ uns der Teamchef klare gegenteilige Ansagen bislang vermissen. Kick it like Kienast anstatt des "Austrian (who) will be crucial to Wigan's hopes of staying up" - und die Deutschen dürfen sich weiter über ihr Freilos bis ins EM-Finale freuen…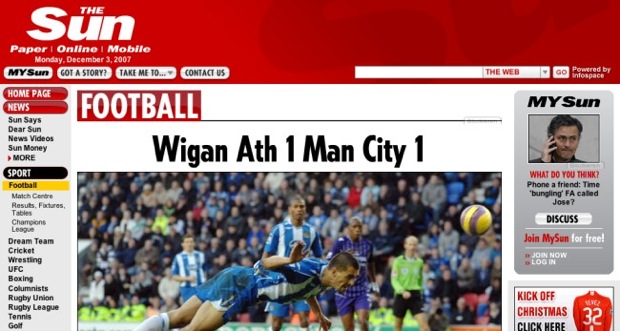 Screenshot Copyright: The Sun
3 Responses to "Kick it like Kienast"
Thomas Says:
Dezember 4th, 2007 at 13:00

Ich mein, jetzt mal ganz ehrlich:

Was darf sich ein Spieler erlauben?
Darf ein Spieler nach 3 Tage bedenkzeit sagen: "Nein, ich will nicht bei der EM spielen, weil meine Mitspieler so schlecht sind, dass ich in meiner Entwicklung gestört würde?"
Darf der selbe Spieler Monate später erklären, dass er, wenn man ihn bitten würde, doch vielleicht wieder spielen würde, aber nur, wenn der ÖFB Valentin Hobel anstellt?
Reicht es, wenn der selbe Spieler Monate später erklärt, dass er jetzt in seiner Entwicklung so gefestigt ist, dass selbst die schlechten Mitspieler ihn nicht mehr runterreissen können??

Nicht böse sein: Aber so ein Psycho hat in meinen Augen in einer Mannschaftssportart nichts verloren.

Rafl Says:
Dezember 4th, 2007 at 13:25

Schade, dass der Paul sich selbst aus der Mannschaft gekickt hat, aber ich kann den Hicke in der Hinsicht voll und ganz verstehen.
Und Linz wird nächstes Jahr wieder im Teamkader stehen und damit basta. Mir kommt vor, die selben Leute(ist jetzt nicht auf dich, Andi, direkt bezogen) die sich (zurecht) fürchterlich darüber aufgeregt haben, wie lustlos die Spieler im Nationalteam agiert haben, kritisieren jetzt, dass Hickersberger am vermeintlich schlimmsten "Obizahra" ein Exempel statuiert hat.

P.S.: Mach den armen Kienast bitte net schlechter als er wohl ist. Er hat sehr wohl mit HamKam auch schon in der ersten nor. Liga gespielt (und dort z.B. einmal Rosenborg 2 Stück geschossen)

mat Says:
Dezember 18th, 2007 at 22:50

Hickersberger sagt übrigens im neuen Sportmagazin: "Linz hat unbestritten großen Torinstinkt. Eigentlich rechne ich damit, dass Roland bei der EM dabei ist, wenn er bei Braga spielt und Tore schießt." Und das macht er ja. Das Hickersberger-Interview ist übrigens im Ganzen lesenswert. 100 Fragen von Fans, dabei ungeschönte wie "Warum sehen Sie eigentlich nicht ein, dass Sie der falsche Mann für den Teamchef-Job sind. Ist es Sturheit oder haben Sie Angst, dass Sie zum Arbeitsamt stempeln gehen müssen?" oder "Warum lügen Sie die Österreicher an und verbreiten Hoffnung für die EM?". Sehr smarte Antworten sind da zum Teil dabei.
Leave a Reply